April 24th, 2013
When I wrote Any.DO's sync system, about 18 months ago, I wanted to use the built in AccountManager API to authenticate and store the users' credentials. When I used it to access Google accounts it seems a pretty simple experience, so I thought I should do that for Any.DO as well. It also goes very well with a sync mechanism (using a SyncAdapter), making it the perfect solution. The problem - no good documentation was out there. The developers community didn't have much experience with that back then, and since we didn't have much time to figure out issues that could arise from this "No man's land", a decision was made to use other methods.
But times have changed..
I recently studied that feature again for a project I'm working on, and saw there's a huge improvement with the knowledge about it. Besides the better documentation on the Android.com site, more and more tutorials went out to the wild, feeding us with knowledge about the mysteries of the notorious Account Manager. Some tales were told about the road to create your own account. I read pretty much all of them. 
But..they all still miss something.
I didn't feel that I actually know everything I wanted to know about the process, and some parts weren't clear enough. So I did what I usually do when I want to know everything about something - investigate it "Jack Bauer style"! This post is the in-depth conclusion of my journey, with all the quirks and features that this service provides and I thought was important enough to find out. There will be a followup post about Sync Adapters as well, so I recommend RSS/Twitter subscribing to be notified…if you're into this kind of stuff. I've been pretty thorough learning all those features, not just the basic stuff as all other tutorials did, but if I forgot something - please let me know by commenting this post.
Why Account Manager?
Why really?
Why not just write a simple sign-in form, implement a submit button that post the info to the server and return an auth token? The reason for that is the extra features you get and in the small details that you don't always cover. All those "corners" that developers often miss when they need their users to sign-in, or dismiss by saying "This will happen to 1 out of 100000 users! It's nothing!". What happens if the user changes the password on another client? Has an expired auth-token? Runs a background service that doesn't have a UI the user can interact with? Wants the convenience of logging-in once and get automatically authenticated on all account-related app (like all Google's apps do)?
Reading this article will probably make you think it's complicated stuff, but it's not! Using the Account Manager actually simplifies the authentication process for most cases, and since I'm already giving you a working code sample - why not use it :)
So, to recap the benefits:
Pros: Standard way to authenticate users. Simplifies the process for the developer. Handles access-denied scenarios for you. Can handle multiple token types for a single account (e.g. Read-only vs. Full-access). Easily shares auth-tokens between apps. Great support for background processes such as SyncAdapters. Plus, you get a cool entry for your account type on the phone's settings: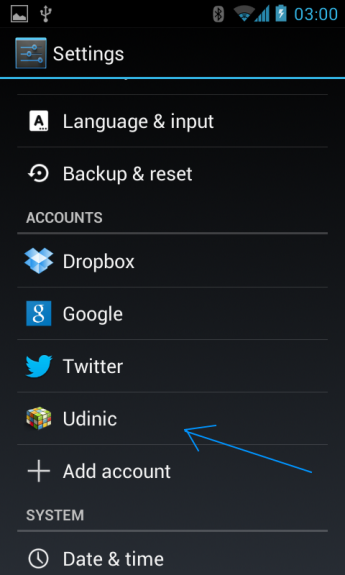 Look mom, my name is on the settings screen!
Cons: Requires learning it. But hey, that's what you're here for, isn't it?
The steps we'll performs to get this done:
Creating our Authenticator - the brain behind this operation

Creating the Activities - in those the user will enter his credentials

Creating the Service - through it we can communicate with the authenticator
But first, some definitions.
Read more -->